Meet the Safeguarding Team at Christian Malford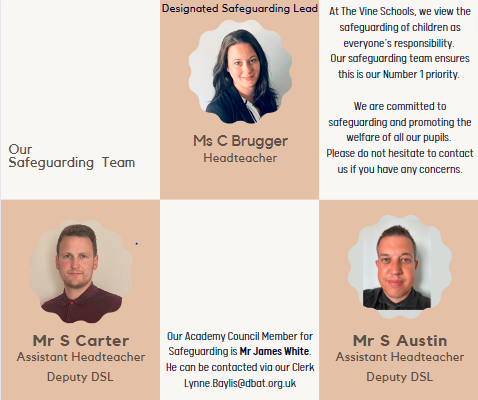 The Diocese of Bristol and Diocese of Bristol Academies Trust is committed to safeguarding, safer recruiting practice and promoting the welfare of children, young people and vulnerable adults and expect all staff, visitors and volunteers to share this commitment. You will be expected to report any concerns relating to the safeguarding of children, young people or vulnerable adults in accordance with agreed procedures. If your own conduct in relation to the safeguarding of children, young people or vulnerable adults gives cause for concern, the DBAT Allegations Management procedure will be followed, alongside implementation of the Disciplinary Procedure as required.
The health, safety and well-being of all our pupils are of paramount importance to all the adults who work at our school.  Our pupils have the right to protection, regardless of age, gender, race, culture or disability.  They have a right to be safe in our school.
At Christian Malford we respect our pupils.  The atmosphere within our school is one that encourages pupils to do their best.  We provide opportunities that enable pupils to take and make decisions for themselves.
We have a comprehensive set of procedures in place that safeguard and promote the welfare of pupils.  These are informed by the Local Safeguarding Children Board and take full account of the guidance set out in Keeping Children Safe in Education.  All staff and local Board members have received a copy of this guidance and updates are circulated when they are released.
All staff in school have been cleared using the Wiltshire Disclosures DBS service.  Any regular visitor to schools (such as peripatetic music tutors, volunteers, sports coaches or anyone who runs a club either during lunchtime or after school) will have also have been cleared through this process.
All staff and volunteers are made aware of our Safeguarding policy and procedures and any updates as they are released.
The Designated Senior Person for Child Protection and Safeguarding is Christina Brugger, Sam Austin and Shaun Carter as the Deputy Safeguarding Leads.
The designated Academy Council member is Mr James White.
The Academy Council reviews and updates its Safeguarding and Child Protection Policy annually.